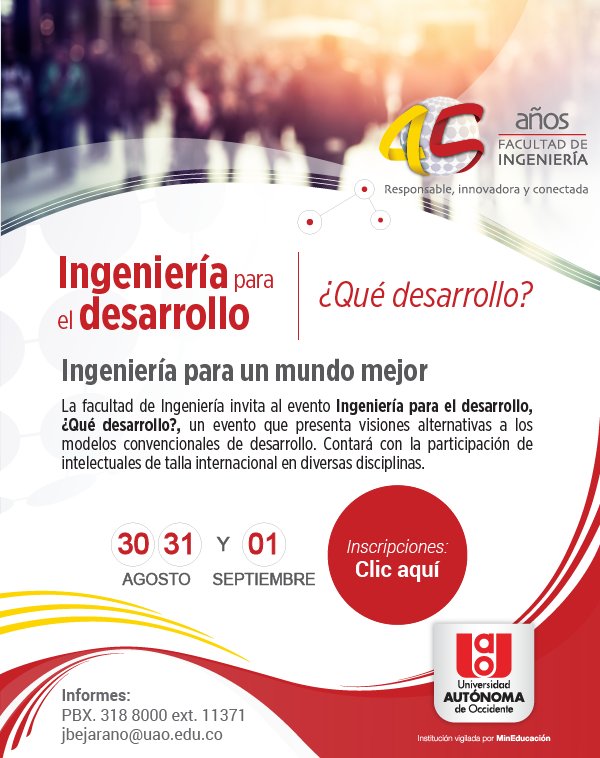 La facultad de Ingeniería de la Universidad Autónoma de Occidente en el contexto de la celebración de sus 45 años de existencia, ha organizado diversas actividades académicas abiertas a la comunidad, entre ellas 'La ingeniería y su papel en el desarrollo, ¿qué desarrollo?', evento que se realizará los próximos 30, 31 de agosto y 1 de septiembre, y contará con la participación de intelectuales de diversas disciplinas que presentarán visiones alternativas a los modelos convencionales de desarrollo.
Las conferencias centrales del evento estarán a cargo de Arturo Escobar (Colombia – USA), profesor en el departamento de Antropología de la Universidad de Carolina del Norte (Chapel Hill), Antonio Elizalde Hevia (Chile), Rector emérito de la Universidad Bolivariana de Santiago de Chile y Director de la Revista Académica Polis de la Universidad Bolivariana, Renato Peixoto Dagnino (Brasil), Profesor Titular en la Universidad Estatal de Campinas (profesor visitante en varias universidades latinoamericanas) en las áreas de Estudios Sociales de la Ciencia y la Tecnología y de Política Científica y Tecnológica, Alejandra Boni Aristizabal (España),profesora Titular del Departamento de Proyectos de Ingeniería de la Universidad Politécnica de Valencia, Mariano Fressoli (Argentina), Investigador asistente en el Consejo Nacional de Investigaciones Científicas y Técnicas (CONICET) y miembro del Centro STEPS – América Latina (Social, Technological and Environmental Pathways to Sustainability).
Reflexiones sobre el concepto de desarrollo, la ingeniería en sintonía con la tierra y la sustentabilidad de comunidades, la formación acorde a los desafíos que está enfrentando Colombia, la insostenibilidad de la tecnociencia, la producción de conocimiento científico-técnico claves para el desarrollo social y económico, serán algunos de los temas que se tratarán en el evento.
La Facultad de Ingeniería de la UAO invita a la comunidad local y regional a participar en este importante evento. La entrada será libre, previa inscripción.
En este link encontrarán información sobre el evento "Ingeniería para el Desarrollo. ¿Qué Desarrollo?